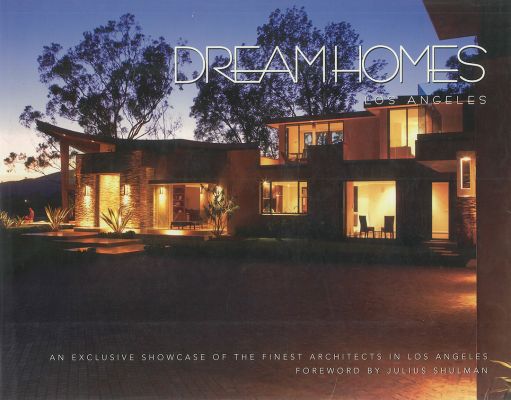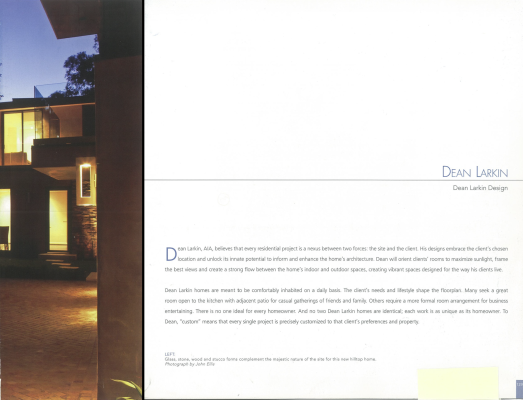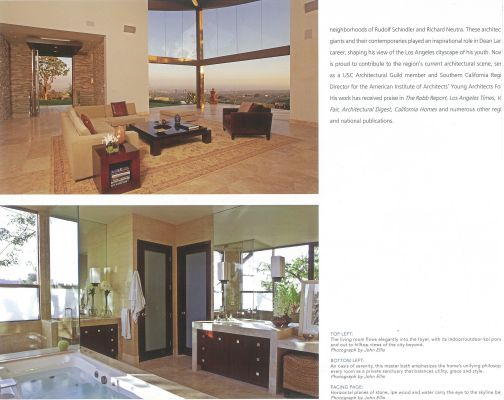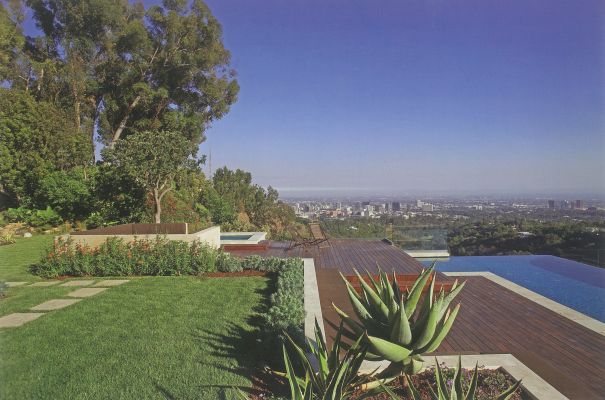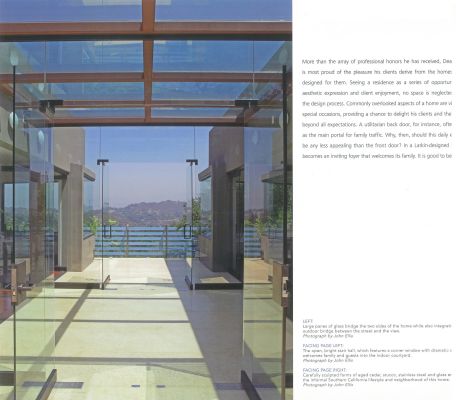 Los Angeles

An Exclusive Showcase of the Finest Architects in Los Angeles
Dean Larkin, AIA believes that every residential project is a nexus between two forces: the site and the client. His designs embrace the client's chosen location and unlock its innate potential to inform and enhance the home's architecture. Dean will orient clients' rooms to maximize sunlight, frame the best views and create a strong flow between the home's indoor and outdoor spaces, creating vibrant spaces designed for the way his clients live.
Dean Larkin homes are meant to be comfortably inhabited on a daily basis. The client's needs and lifestyle shape the floorplan. Many seek a great room open to the kitchen with adjacent patio for casual gatherings of friends and family. Others require a more formal room arrangement for business entertaining. There is no ideal for every homeowner. And no two Dean Larkin homes are identical; each work is as unique as its homeowner. To Dean, "custom" means that every single project is precisely customized to that client's preferences and property.
A native son of Los Angeles, Dean grew up in one of the country's most dynamic architectural environments, graduated from the University of Southern California's School of Architecture and experienced the emergence of Southern California as a design leader. He continues to draw inspiration from the climate and culture of his hometown, while synthesizing new influences from travels across the United States, Europe and Asia. One of his favorite destinations, rural Italy, beautifully embodies his design philosophy of site informing style. The region's balmy weather and softly elegant landscapes inspire outdoor living, captured in its famed villas' covered galleries and private courtyards, rooms warmed by generous sunlight and relaxing spaces carved from native wood, earth and stone. Dean Larkin's projects are updated interpretations of the classic villa: site-inspired and client-comfortable, adapted for the new world and new millennium.
Beyond its Mediterranean-like climate and natural beauty, no region is more suited for a site-inspired architect than Los Angeles and its surrounding regions. The area offers a proven environment for progressive design. Here, builders can feel comfortable expressing new, innovative structures in the neighborhoods of Rudolf Schindler and Richard Neutra. These architect giants and their contemporaries played an inspirational role in Dean Larkin's career, shaping his view of the Los Angeles cityscape of his youth. Now he is proud to contribute to the region's current architectural scene serving as a USC Architectural Guild member and Southern California Regional Director for the American Institute of Architects' Young Architects Forum. His work has received praise in The Robb Report, Los Angeles Times, Vanity Fair, Architectural Digest, California Homes and numerous other regional and national publications.
More than the array of professional honors he has received, Dean Larkin is most proud of the pleasure his clients derive from the homes designed for them. Seeing a residence as a series of opportunities for aesthetic expression and client enjoyment, no space is neglected in the design process. Commonly overlooked aspects of a home are vivid special occasions, providing a chance to delight his clients beyond all expectations. A utilitarian back door, for instance, often acts as the main portal for family traffic. Why, then, should this be any less appealing than the front door? In a Larkin-designed home, it becomes an inviting foyer that welcomes its family. It is good to be true.